ONLINE Maths and Programming Camp and Courses (25-29 May 2020)

The Art of Data Science Camp is designed for children aged 7-18 and is all about Maths and Programming with a special focus on Data Science! You will find more details about how each camp day is organised and the educational programme here.

After all the bookings for the full day camps are processed we will be able to allocate any remaining places in specific subject courses: maths circles, programming classes and chess training. We apologise in advance that there are so few places available.

To enroll please fill in this REGISTRATION FORM.

The Art of Data Science Camp: Timetable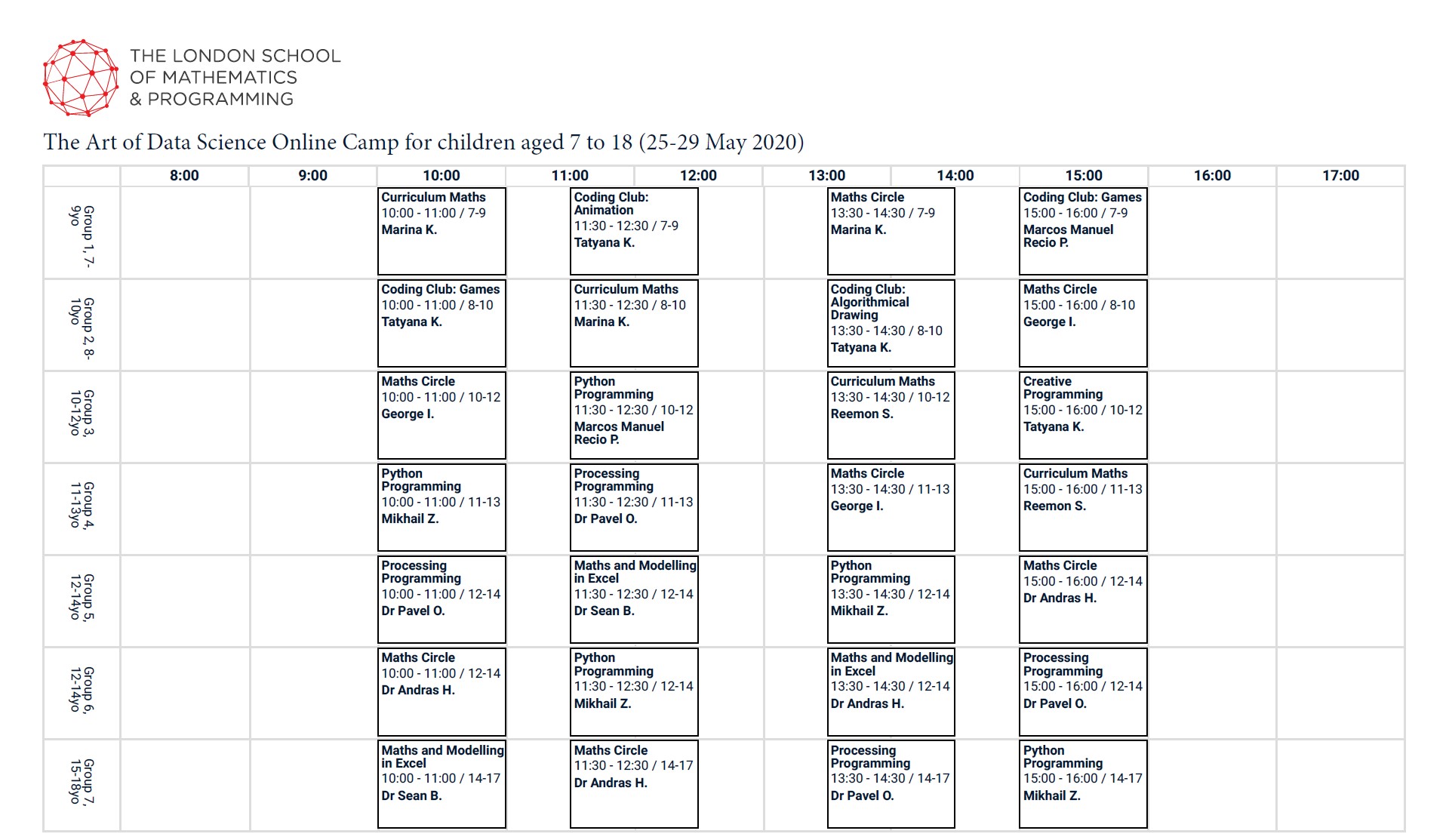 * Timetable is subject to change
Fees for the week of 25-29 May 2020:

The Art of Data Science Camp: The fees are £300 for three days, £400 for four or £500 for five. If you are booking fewer than five days we would encourage you to start on Monday.
To complete a booking please transfer the relevant fee to the school's account. All parents who have completed their booking will receive our joining email shortly with details about getting online with Zoom, downloading the required software and our safeguarding rules for online studying. If there are no more spaces left in a chosen group we will offer an alternative or refund the fee.

Monday to Friday course: you can pick and choose a particular course for 5 days Monday to Friday for £125 a week provided there is a space left after priority booking for full day camp bookings.
Sibling Discount Policy

We offer a 10% sibling discount on fees for a second child or further children. For the purposes of this policy the definition of a sibling is a child who is one of two or more children from the same family. The discount does not apply to whichever child has the highest fee spend, but does apply to siblings with an equal or lower fee spend.